Meet Bas: Vertical farming systems with excellent service
A brand new position within Artechno Growsystems: Lead Services
Artechno Growsystems is growing, thriving, and optimizing. The company introduced a new position: Lead Services, to better serve its clients. Bas Segaar, currently Artechno's Sales Engineer, takes on this role.
Bas is going to set up and lead the new Service department. In this interview, he tells us about his vision on customer contact and his goals for this new department.
Since when do you work at Artechno Growsystems?
"I started working at Artechno Growsystems in November 2021. The enthusiastic team was what attracted me to the company. When you walk in at Artechno Growsystems, you immediately notice that the people working there are passionate about their jobs."
How was your start as a Sales Engineer?
"I was hired at the same time as Rudy and Martijn. Almost a doubling of the sales team, as previously the team consisted of only four people.
This meant a total redistribution of roles, which was a nice challenge. Among other things, I focused on standardization, which I find a fascinating topic. It became one of my focus points for the Service Department."
You've been working at Artechno Growsystems for eight months now, do you like your job?
"Absolutely! I can really strut my stuff in this company. Because it is a small company, I have been able to see and experience a lot in eight months. I also get the space I need to set up new projects and test them out.
I also got the chance to involve myself to a certain extent in account management. That means I work both at the business's front and back end."
What do your duties look like at the moment?
"At the moment, I wear several hats because I also fulfill my function as Sales Engineer. We're pretty busy at Artechno Growsystems, so I'm still needed in that function until we find a replacer.
When someone joins the team as Sales Engineer, I will fully focus on my position as Lead Services."
Can I sum that up as being busy and diverse?
"Yes, and I have to say that I actually like that diversity. When I was still in school, I always wanted to arrange everything, come up with games and be creative, and that's in the nature of the beast. The more diverse, the better, monotonous work is not for me.
In addition, the hustle and bustle gives me energy; if there is not so much to do, I become a bit sluggish. In that respect, I am not a typical engineer who sits at the drawing table day in, day out. I want to know a bit of everything and do as many different things as possible."
As a Sales Engineer, you didn't work directly with customers; now you do. How does that work out?
"As a Sales Engineer, I design the vertical farms, and that background helps tremendously when interacting with customers. I know what technical questions to ask, and because of my background as an Engineer, I know exactly what options are available for the vertical farm and vertical farming systems.
Therefore, I am the obvious person to go through the initial development process with the customer."
How exactly does that work?
"The first exchange I have with clients ensues after the client has decided to contract Artechno Growsystems.
I will organize a meeting to precisely determine what the customer wants and how we will achieve that goal.
With my background as an Engineer, I can provide advice on fitting the client's needs into a design. Hence, no extra lines and intermediaries are needed. As a result, the client has a clear and realistic picture of his farm right from the first meeting."
Why was the Lead Services position created?
"To ensure the best possible service to our customers. Think of it this way: the customer buys a vertical farm and starts to utilize it. That doesn't complete the process.
After the purchase and installation, the customer can receive support, perhaps for questions about growing recipes or about the maintenance of the farm.
Some of our services are a regular part of the process. The amount and intensity customers use those services depends on their experience and self-sufficiency.
Our current customers find our solid services most important, and with the tremendous growth we are experiencing, we don't want to lose our quality."
Is this support new?
"No, that has been part of our service since the founding of Artechno Growsystems. We did not have just a single point of contact for our after-sales services. When Artechno Growsystems was still a smaller company, several people rendered the services, which went exceptionally well.
But now that we are growing, we are working with more significant numbers and requests. As a result, our need for a clear strategy to organize this part of the process, and for someone to coordinate it, also increased."
Why is this support necessary?
"Our products, like the AVF+ Compacts, are fantastic solutions for growing crops super efficiently. But you do have to know how to work with them, and that is hinged on having the necessary training and support.
Having such an excellent product but failing to use it optimally is a shame.
At Artechno Growsystems, we don't just want to sell our product; we want to make sure it contributes to the success of our customer's business."
How will you contribute to the customers' success?
"As Lead Services, I am the point of contact for the customer from the moment of purchase of an Artechno Growsystems product. I support our customers where possible, for example, by providing training to them.
Not all our customers are growers by origin. If a customer gets a factory delivered, I will give them training on how to operate it and how to grow a plant.
By giving these trainings, I instantly build up a relationship with customers. I, therefore, know right away how the vertical farming systems are performing and how they are being used."
What other ways do you support the customer?
"Many of our products, such as the Aqualuxes, are serviced by our dealers, which means that the dealer is the point of contact for the customer.
In other cases, customers arrange the maintenance themselves. If a part wears or breaks, or there is a malfunction, they get me on the phone, and I help them out.
You can consider it support coordination, and that works both ways. On the one hand, I help the customer when they need a new part due to, for example, wear and tear; on the other hand, I feed the information back into our organization. This way, we continue monitoring and improving all our systems and components.
My other duties include:
Technical Analyses
Running statistics
Preventive maintenance
Arranging spare parts
Contracting software for maintenance
Communication with all mechanics
Fine-tuning with the Project Coordinator"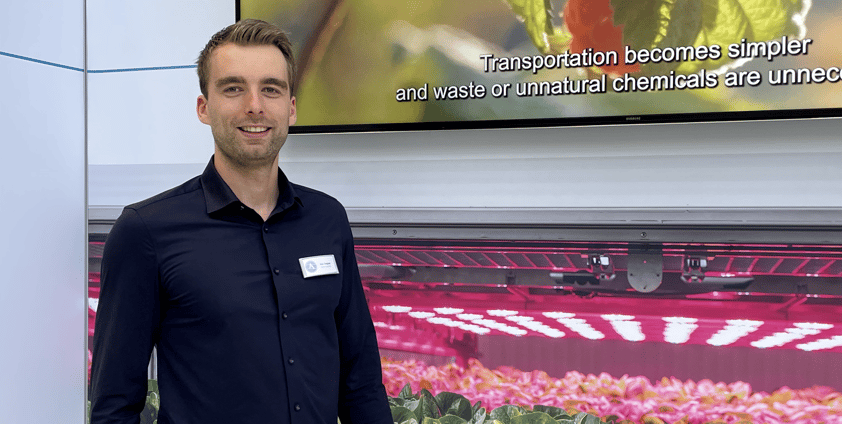 What do you personally get out of the customer contact?
"I enjoy and find it interesting to listen to- and understand all the feedback and experiences of our customers. We are a young company with innovative, well-performing systems. But no system is perfect. There will always be something we can optimize or adjust to the customer's needs, and that's what we want to do.
To that end, all input from customers is more than welcome."
How do you envision yourself in the role of Lead Services?
"I really offer a listening ear to the customer. As a result, I can, for example, figure out how the customer experiences the system and where I can offer support.
I am also the gatekeeper between the questions from the field and the engineers. If a part wears out quickly, I ensure that the customer promptly receives a replacement part, and I pass on the information to the R&D or engineering department. In turn, they will investigate whether the part can be improved.
Thanks to all this input, Artechno Growsystems can optimize its portfolio."
What makes you the right person for the job?
"I've worked a lot in companies' back offices, performing work like examining technical analysis and troubleshooting. I did that as an After Sales Engineer at the company where I worked before, and more recently as the Sales Engineer at Artechno Growsystems. Because of this experience, I can also help customers with their technical issues.
I am also curious; I find everything exciting and want to know a little about everything. That comes in very handy in this job. As Lead Services, I need knowledge of every aspect.
I am also strong in customer contact, which makes me feel more at home here than in my previous position. I really enjoy the customer contact."
What are your core values in your role as Lead Services?
"I am a caring person and always act from the perspective of helping others.
Helpfulness and commitment are, therefore, the pillars of my approach to my job. I will always make sure that our customer is helped in the best way possible and able to move on."
How do you serve people best?
"By making sure that person feels understood. You can't always solve the problem right away, and you don't always have the answer at hand. It's my job to ensure that the customer always hangs up with a good feeling and is confident that they are being properly served."
How do you envision the time ahead?
"Right now, I'm still mapping out exactly what needs to be done in the Service Department and how much time it will take. Next, I will develop a strategy for the department based on this information.
Artechno Growsystems continues to grow; we double our turnover and volume every year. This will make the department much busier with, among other things, software updates and preventive maintenance.
In time, the department will expand and handle all requests, including a Service Engineer to conduct technical analyses."
What is unique about the Services of ​​Artechno Growsystems?
"We go beyond keeping systems up-to-date and supplying spare parts. We also provide guidance on how to grow crops by sharing growth recipes with customers. We have multiple Agronomists on our team who guide the customer through this process.
And when we discover anything new at Artechno Growsystems, ranging from insights to new recipes, we offer it as a service to schedule an appointment with one of our Agronomist.
Together with the customer, they look at how the innovation in question can contribute to optimizing the customer's factory. That makes us unique."
What are your goals for the Service Department?
"For a flying start, I wrote a plan of action, which I used to get everything in place for the current projects.
What I mentioned earlier is that I think standardization is an important aspect. We are working on this throughout the organization. I also want to standardize as much as possible within the Services Department. This results in more clarity and less vulnerability to failure, which contributes to satisfied customers. Customer satisfaction is my main goal."
When is the department a success in your perception?
"When all our customers are satisfied customers. Artechno Growsystems wants to contribute to food supplies and food security through a sustainable way of growing; we need our customers for that.
That is why we are extra motivated to support our customers. We do that foremostly by ensuring that the vertical farm delivers the highest possible yield and quality to our customers.
With the Service department, we help our customers become better growers and contribute internally to bring the Artechno Growsystems products to a higher level."
Are you interested in vertical farming? Or do you have any questions? Don't hesitate to contact us; we are happy to help you.